Over the last couple of years, personal transportation has exploded. People are riding electric scooters, electric skateboards, even hoverboards! The first of its kind, however, was the Segway scooter. As the latest technology continues to improve the Segway board has become kind of ambiguous. The design and popularity of the two-wheeled personal vehicle have grown immensely.
The Segway board can really be any kind of self-balancing vehicle. These vehicles, or electric rideables if you will, have incredibly accurate tilt sensors to monitor the rider's center of gravity, turn with the slightest effort, and give riders the sensation of hovering or gliding on air.
As an added bonus, this interesting and relatively new mode of transportation is powered entirely by battery, making trips to the gas station obsolete. Of course, as an all-electric vehicle, Segway boards are a perfect eco-friendly mode of transportation, especially when coupled with the use of solar panels in order to allow it to charge when needed.
Our Review of the Best Segway Boards of 2020
#1: Segway MiniPRO PT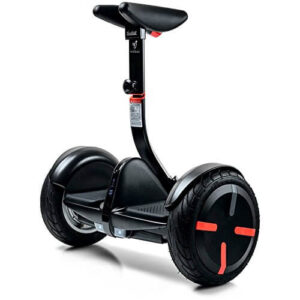 User Rating: 9.5/10
While not technically a traditional-style Segway due to its lack of a handlebar, the newest Segway model—the Segway MiniPRO—is affordable for almost everyone, and it boasts the same quality as every other Segway product out there. While the lack of a handlebar does tend to make learning to use the MiniPRO a bit more difficult, once you get the hang of it, it's as easy to use as any other self-balancing scooter.
PROS:
Lightweight
Smartphone app
Very high quality
UL 2272 certified
CONS:
Low weight limit
Lack of handlebar
Low range
Not very fast (10 mph max)
This board can reach speeds up to 10mph—though the tutorial speed is only about 4.3mph—and it has a fairly long-lasting battery that can keep the scooter running for up to 14 miles of travel. However, this clearly isn't as good as the Airwheel battery mentioned above, so the scooter does lose a few points there.
The scooter features headlights and tail lights, both of which can be made to shine in a variety of colors in order to add a personal touch to the scooter. These lights—along with the music player, the anti-theft feature, and a variety of other features—can be controlled using a smartphone app, making this an incredibly savvy piece of equipment.
The wheels on the Segway MiniPRO are a bit smaller than other Segways, and are clearly meant to be used on sidewalks and roads exclusively. Still, the wheels are big enough to handle these types of terrain quite well, and very little is felt in the way of bumps.
This scooter can be used by people weighing up to 220lbs. This is actually on the lower side as far as weight limits go, so you will want to watch out if you plan on hauling cargo around while using this scooter. However, the unit itself only weighs about 28lbs, making it the lightest unit on our list and therefore the most portable.
#2: Segway Minilite
User Rating: 9/10
This is the younger brother to the Segway miniPRO. It is super easy to ride, has a max speed of 10mph, an 11-mile range, and mobile app. If you are looking for a less expenseive miniPRO than grab this guy.
PROS:
Off-Road Capable
Great Battery Life
Amazing Safety Features
Folding Handle
CONS:
No handlebar
Only has a 176lb weight limit
#3: Razor Hovertrax 2.0
User Rating: 9/10
This segway board can also be considered a hoverboard. The Razor Hovertrax 2.0 is a great beginner board. It uses EverBalance technology for a safe and smooth ride. It has a max speed of 8 mph and a range of 60 minutes. Being super lightweight at 24lbs makes it ideal for kids.
PROS:
New Design
Lightweight
Affordable
CONS:
No Bluetooth Speakers
Short Range
#4: Segway One S1
User Rating: 7.5/10
The S1 is technically an electric unicycle, but it still is self-balancing and electric! This shiny one-wheeled beauty is very well put together and is capable of 12mph. It has a 15 mile range and mobile app to help you switch modes. The pedals are nice and snug, but the exterior is hard to grip to.
PROS:
Super Compact
UL 2272 Certified
Mobile App
CONS:
Quite heavy to carry if battery dies
Sides are slippery
Slow top speed
#5: Segway i2 SE
User Rating: 8.5/10
If you are looking for an incredibly high-quality scooter to use for a daily commute in place of a car, the Segway i2 SE might be the scooter for you. This scooter is very well-thought-out and designed, and because it is made by Segway, you can bet it is very durable and of excellent quality.
PROS:
Very Durable
19″ Tires
Capable of High Speeds
Strong Weight Limit
CONS:
Very Expensive
Very Heavy
Low Range
This scooter offers a wireless InfoKey controller and safety lights, as well as an adjustable speed limiter lock. Additionally, the scooter boasts 19-inch tires, making it ideal for use on just about any everyday surface. That said, this scooter was not made for off-roading, and shouldn't be used for such on a regular basis.
The Segway i2 SE can reach up to 12.5mph, and has a range of up to 24 miles. That speed is the fastest on our list, but the range leaves something to be desired, especially considering the price point.
As far as weight goes, the Segway i2 SE weighs in at about 105lbs and has a generous weight limit of 270lbs.
#6: Segway X2 SE
User Rating: 8.5/10
Perfect for those looking for the most durable and rugged off-road Segway on the market, the Segway X2 SE is a monster of a scooter.
PROS:
Very Durable
21″ Tires
Capable of High Speeds
Strong Weight Limit
CONS:
Very Expensive
Very Heavy
Low Range
This scooter features the same wireless InfoKey controller and safety lights—as well as the adjustable speed limiter lock—as the i2 scooter above. It also includes a set of 21-inch tires that are made to handle anything and everything the wilderness might offer. The scratch-resistant mud flaps protect your Segway from muddy puddles, and the cargo rails make hauling items a breeze.
Obviously, this scooter was made to be off-road, and that is definitely where it fares best. However, there is no reason this unit can't be used on city streets if needed.
Segway X2 SE can reach speeds of up to 12.5mph but has a limited range of only 12 miles. It weighs in at a very heavy 120lbs, but can carry a hefty 270lbs.
#7: Swagtron T6 Off-Road Hoverboard
User Rating: 6/10
This Segway board/hoverboard is by Swagtron. They recently made this off-road model and it is pretty cool. The weight limit is ridiculous at 400lbs and can zip you around at 12 mph. The range is around 12 miles and will take you 2-3 hours to charge. All though it looks rugged, the durability isn't exactly the best. Be careful when taking it truly off-road and always wear a helmet.
PROS:
Off-Road
400 Max Weight Limit
12 MPH Top Speed
What is the History of the Segway Scooter?
The very first Segway was introduced in 2001 by inventor Dean Kamen. His revolutionary new product was made to transform the way individuals transported themselves, and to an extent, his plan was seen through. Unfortunately, the Segway's design had a few flaws which compromised the safety of the units. Many people were thrown from the scooters when the units would run out of power, including then-U.S. President George W. Bush. These issues eventually led to the Segway being banned from many sidewalks and all roads, leaving them to be ridden only on private property.
Of course, this banning slowed sales significantly, and despite the fact that the safety concerns were addressed in a timely manner, they never picked back up. Eventually, Mr. Kamen was forced to sell the Segway off to an investor, and it was passed around two more times before finally settling in the lap of the China-based firm, Ninebot.
Under Ninebot, the Segway has had much more success. This is especially true when it comes to the recent release of the Segway MiniPRO, which has made the Segway an affordable option for a much wider audience.
Meanwhile, a few other companies have been working on their own versions of these self-balancing two-wheel scooters, and some have come up with options that work almost as well as the Segway brand for a fraction of the price, leading these scooters to see a rise in popularity.
Why Should Someone Invest in A Self-Balancing Scooter?
With the now-lower cost of Segway boards, you may be considering getting one for yourself. If you are hesitant to do so, consider these points:
They are an eco-friendly alternative to driving a car for short distances.
These scooters can generally travel around 15mph, a reasonable speed for heading to a nearby store or shop.
They are ideal for avoiding traffic in crowded areas
They do not require a traditional parking space, meaning users will never have to hunt for space again.
Many locations allow people under the age of 16 to ride, meaning younger teens could use the scooter as a mode of transportation before driving a car.
Electric rideables can handle a wide variety of terrains, making them more versatile than kick-scooters, skateboards, and other recreational riding units.
These scooters are perfect for traveling tourist areas such as Las Vegas without the use of a taxi.
Who Rides These Crazy Contraptions?
For many people, the first thing that comes to mind when Segways are mentioned is the comedic movie Paul Blart: Mall Cop. While this movie is quite funny, it doesn't exactly put Segway users in a good light. It's important to note that you do not have to be a bumbling mall security guard to use a Segway board.
In fact, a large number of people from a variety of backgrounds have taken to using these personal transport devices in recent years, and among them are many celebrities. For instance, the Jenner twins—Kylie and Kendall—have been spotted gliding along, and both Justin Beiber and Selina Gomez have been spotted using the self-balancing scooters.
Besides celebrities, a great number of ordinary people use these boards every day. From security guards to tourists, and from those going on a grocery run to those riding for recreation, there are a wide variety of Segway scooter users in the world, and there is no reason why you shouldn't join them.
Are Segway Scooters Safe?
Because of some scares that happened involving both Segway scooters and the similar "hoverboards", many people are wary of self-balancing scooters. Some are afraid of fires, while others are frightened of balancing issues affecting the safety of the units. However, you can rest assured that the models listed in the next section have been rigorously tested, and are as safe as they come.
Conclusion
Clearly, any one of these Segway boards would be an excellent investment. While the miniPRO is our top pick, you might find that another one of these options better suits your needs and/or lifestyle. As always, make sure to do plenty of your own research before making a purchase. Happy riding!