The self-balancing scooter aka hoverboard is better than ever these days. Manufacturers have got their act together after previous problems and are now producing UL certified models, which means they are safe to use (and won't blow up on you). You can see our top recommendations for the best self-balancing scooters in 2019 in our comparison table below.
Best Self Balancing Scooters (Updated Monthly)
5 Best Hoverboard Reviews
Update: After a few of product removals and concerns over safety standards, we've updated the list to reflect certified hoverboards that pass all official safety regulations. We will keep this regularly updated with the latest information.
1. Halo Rover
The Halo Rover is one of the more popular self-balancing scooters to hit 2019. This model will NOT overheat or malfunction, and it is UL Certified with LG's finest batteries. They have an indestructible guarantee with an aluminum chassis and indestructible non-flat 8.5-inch tires. This scooter also comes standard with Bluetooth and a mobile app for playing music, tracking location, speed, and battery life. As a whole, the Halo Rover provides a remarkable riding experience.
PROS:
Bluetooth Speakers
UL2272 Certified
Off-Road Model
CONS:
Charge Time of 2.5 Hours
Weighs 32lbs
2. Halo Go
The Halo Go is a fantastic hoverboard. The looks alone make me want to buy one. This model is quick, agile and priced affordably. It also has a killer range at 12 miles and is the lightest board on the list. If you are looking for a go-to hoverboard option, look no further.
PROS:
Bluetooth Speakers
Can Travel 12 Miles Without a Charger
Never-flat Tires
Great Design
Looking for more affordable options? Come explore our list of the best cheap self-balancing scooters!
3. Swagtron T6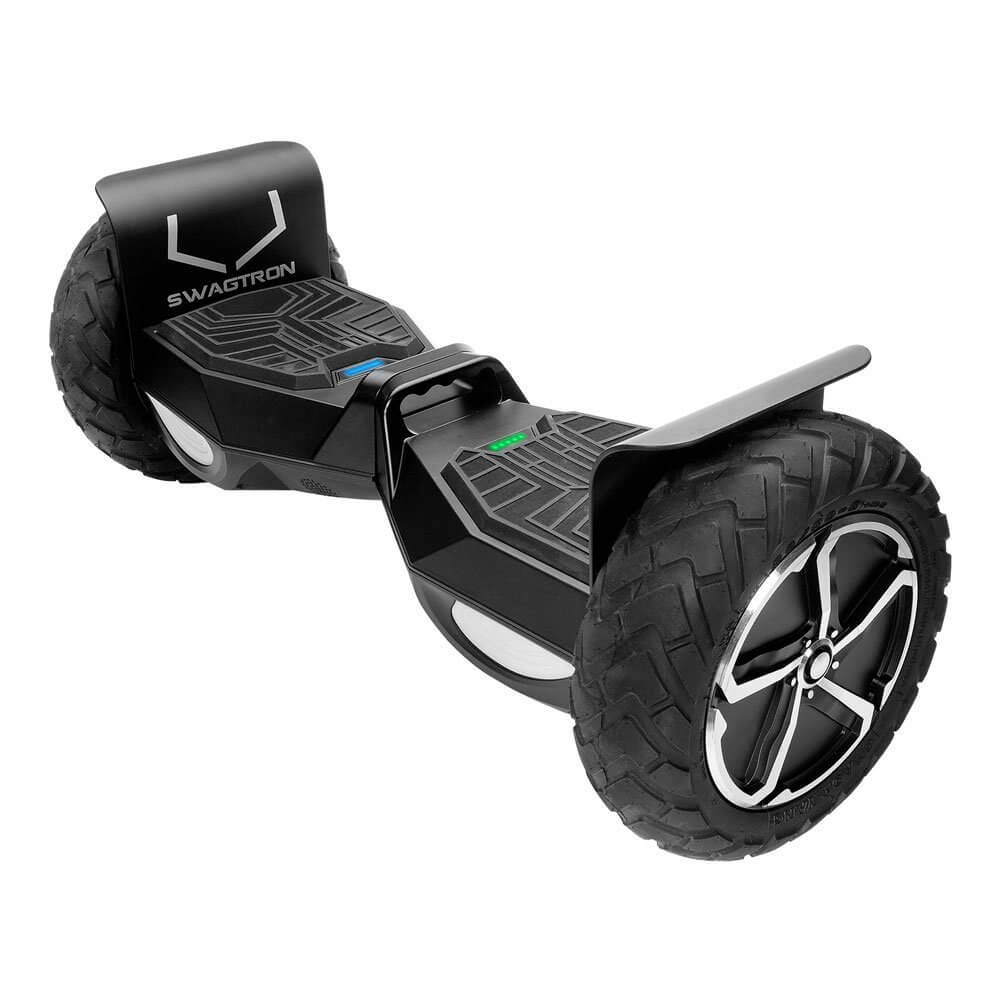 Read Reviews & Best Deal on Amazon
Swagtron is kind of the staple of hoverboards. The T6 is their new high-quality off-road model and serves as a large upgrade from the Swagtron T1 and Swagtron T3. With a nice range and max speed of 12 mph, this is the fastest hoverboard on our list. The construction isn't as durable as the Halo Board model, but it can hold more weight and is a little slimmer. Not a bad second option for an off-road model.
PROS:
Off-Road
12 Mile Range on a Single Charge
12 MPH
420 Ibs Weight Capacity
Interested in seeing something different? Learn about the Segway MiniPRO and some of the other top performing Segway boards!
4. EPIKGO
Read Reviews & Best Deal on Amazon
Epikgo has been around for awhile now. They got quite popular in 2017 and their classic off-road model is still one of the best. Between the big wheels, quick acceleration and LED lights its a lot of fun. It makes going over all terrains easy and a solid pick for a decent price.
PROS:
Quick Acceleration
Rides Smooth
5. Razor Hovertrax 2.0
Read Reviews & Best Deal on Amazon
Razor is back at it again with the new Razor Hovertrax 2.0 self-balancing scooter! Using EverBalance technology, the Hovertrax 2.0 auto-levels for a safer, easier mount and a smoother ride. Whether you're coasting, racing, or commuting, Hovertrax 2.0 is always in balance. They have also added two LED light bars, fender bumpers, and a LED battery-life monitor. They even updated their exterior with a shatter-resistant polymer frame. They added fender bumpers for protection and anti-slip rubber foot platforms, to keep you going for many rides to come.
PROS:
New Design
Lightweight
Affordable
CONS:
No Bluetooth Speakers
Short Range
If a self-balancing scooter isn't your bag, check out our reviews on electric scooters, electric bikes, and electric skateboards.
If you haven't been living under a rock lately, you have most likely seen these cool new toys that have become hugely popular with celebrities and everyday people alike – the self-balancing scooter (or hoverboard). Everyone from Jimmy Fallon to Justin Bieber is riding them (although, it must be admitted that Chris Brown rides it best).
Imagine a Segway without handles, and able to go at speeds around 8mph – 12mph (depending on the model), and balancing yourself up. It is lightweight, smart and easy to move. They are incredibly fun to ride and take some time getting used to. These two-wheel gyroscope machines are taking over!
Why Should You Buy One?
It might look a lot of fun on celebrities' Instagrams, but are these gadgets really for you? The answer is probably yes as the convenience and cost-effectiveness it offers something that everyone can benefit from. If you still need reasons as to why a self-balancing scooter is a good buy, here are some of its major advantages.
Runs on batteries: There is no need to fill a tank or store gas. You just need batteries to run the scooter. Store up on some batteries, and you have a virtually never-ending, never-stopping, fully dependable ride. As easy as that.
Easy to navigate: There is nothing complex in the way hoverboards are controlled. All you have to is lean forward when you want to accelerate, and lean back when you want it to stop. If you want to turn left or right, you just need to turn the right handlebar forward or backward. These simple instructions are all you need to know before you jump aboard your new ride.
Light: This is one of the most distinct advantages. The design of these two wheel scooters is such that it is not bulky or cumbersome. They have a light framework, which also allows you to carry them anywhere quickly if you have to.
Low maintenance: Hoverboards do not require heavy maintenance. You just have to periodically check up on the batteries. Everything else is pretty much taken care of on its own.
Perfect for urban living: Of course, you cannot forego your subway ride to the office or your two-hour drive to the hospital with this scooter. But it is perfect for small errands like buying the groceries. It is apt for distances of five to ten kilometers and can take a little extra load, so your trips to the supermarket just became a whole lot more fun.
Eco-friendly: While you are making a solid choice for yourself by choosing a two-wheel scooter, you are also benefitting the environment. It is a win-win situation.
What to Look for When Making a Choice
So now that you have decided that you are ready to buy a self-balancing scooter, how do you choose one from the many available? Before going to specific models and brands, it is first necessary to know what you are looking for.
The first thing to consider while comparing different hoverboards are the features.
Does one go faster than the other?
Does one offer a more sophisticated and foolproof navigation system than the others?
Does one offer a hood on the front that provides better protection in case of an accident?
These and other features are some that you should look into. More or less such features are visible when you look at the different scooters, and this is not a hard assessment to make.
The next thing you should think about is your need for the scooter. Ask yourself what you will use it for. Learn to differentiate your real needs from your imagined ones. You might think that you will use it to ride to the gym that is six kilometers away, but you know that in reality, you're never going to get up early in the morning. But you might use it for your weekly grocery shopping. Find out your real motivation and with that in mind, filter through the choices.
Another thing that you should consider is appearance. Maybe one brand only offers the scooter in the basic colors of black and white. Another brand offers blue and pink too. Here you need to choose what uniquely matters to you.
Finally, you must balance all the above criteria with the price tag. After all, every self-balancing scooter should be worth the money you are paying for it.
You must balance money and features against one another. If one brand is offering a little something extra (like Bluetooth speakers), but the price is double of the basic, it is not worth it. If another one is asking for two hundred dollars extra but is offering you an essential feature, for example, UL2272 Certified Battery, then that may make it worth it. Also, be on the lookout for free shipping. A lot of brands are offering this nowadays.
Summary
The above list is a handy tool in deciding which variant to buy. You can assess different hoverboards easily to know what's best for you. Look at the appearance and then the speed and charging times; only then look at the price. Understand your priorities, and decide which feature matters to you and which one doesn't to make your choice.
For example, if your first priority is looks, and you want a scooter that has a fabulous design, you can opt for the CoolReall scooter. Similarly, if you are looking for something to teach a child, the MonoRover R2 Electric Mini is a good choice. In this manner choose what you like according to what you need, and eventually compare prices to select the best product for you.
After reading the reviews, you can confidently go forth and buy the best hoverboard/ self-balancing scooter for yourselves, whether it is from your neighborhood store or through online shopping.
Make sure to check out our homepage for all of your personal transportation needs! And our newest post for the complete hoverboard buying guide.