UPDATE: Hoverboards (self balancing scooter) are making a comeback. Manufacturers have got their act together after previous problems and are now producing UL certified models, which means they are safe to use. You can see our top recommendations for the best and safest hoverboards in 2017 in our comparison table below.

However, before you buy one, you need to know which is the best self balancing scooter to go for. There are numerous hoverboards on the market, and it can be hard to decide between them, especially as they haven't even reached the streets everywhere yet. So how do you find one that suits your taste and your pocket? Sometimes the price is worth it, and sometimes it is just a small design improvement. We help you find the right one with our reviews and guides. Read on for pros and cons of the best hoverboards, and what sets one apart from the other.

BEST SELF BALANCING SCOOTERS 2017
| Name | Max Speed | Range | Weight | Our Rating | Price |
| --- | --- | --- | --- | --- | --- |
| Genesis Gemini | 12 mph | 10 miles | 18.8 lbs | | $$ |
| Halo Go | 7 mph | 12 miles | 22 lbs | | $$ |
| Skque Arrival | 6.2 mph | 12.4 miles | 28.7 lbs | | $$ |
| Street Saw | 12 mph | 12.4 miles | 29 lbs | | $$ |
| Razor Hovertrax 2.0 | 8+ mph | 60 minutes | 24.7 lbs | | $ |
| Monorover R2D | 7 mph | 10 miles | 25 lbs | | $$ |
Best Off-Road Hoverboards
| Name | Max Speed | Range | Weight | Our Rating | Price |
| --- | --- | --- | --- | --- | --- |
| Halo Rover | 10 mph | 10 miles | 32 lbs | | $$ |
| Streetsaw RockSaw | 9 mph | 10 miles | 32 lbs | | $$$ |
| EPIKGO | 9 mph | 10 miles | 31 lbs | | $$$ |
If hoverboards aren't your bag, check out our reviews on electric bikes, electric skateboards, or even segway scooters.
If you haven't been living under a rock lately, you have most likely seen these cool new toys that have become extremely popular with celebrities and everyday people alike – the self balancing scooter (or hoverboard). Everyone from Jimmy Fallon to Justin Bieber is riding them (although, it must be admitted that Chris Brown rides it best). Imagine a Segway without handles, and able to go at a speed around 8mph – 12mph (depending on the model), and you have a picture of what we are talking about. It is lightweight, smart and easy to move. They are incredibly fun to ride and take some time getting used to.
Why Should You Buy a Self Balancing Scooter?
It might look a lot of fun on celebrities' Instagrams, but are these gadgets really for you? The answer is probably yes as the convenience and cost-effectiveness it offers something that everyone can benefit from. If you still need reasons as to why a self-balancing scooter is a good buy, here are some of its major advantages.
Runs on batteries:

There is no need to fill a tank or store gas. You just need batteries to run the scooter. Store up on some batteries, and you have a virtually never-ending, never-stopping, fully dependable ride. As easy as that.
Easy to navigate:

There is nothing complex in the way hoverboards are controlled. All you have to is lean forward when you want to accelerate, and lean back when you want it to stop. If you want to turn left or right, you just need to turn the right handlebar forward or backward. These simple instructions are all you need to know before you jump aboard your new ride.
Light:

This is one of the most obvious advantages. The design of these two wheel scooters is such that it is not bulky or heavy. They have a light framework, which also allows you to carry them anywhere easily if you have to.
Low maintenance:

Hoverboards do not require heavy maintenance. You just have to periodically check up on the batteries. Everything else is pretty much-taken care of on its own.
Perfect for urban living:

Of course, you cannot forego your subway ride to the office or your two-hour drive to the hospital with this scooter. But it is perfect for small errands like buying the groceries. It is apt for distances of five to ten kilometers and can take a little extra load, so your trips to the supermarket just became a whole lot more fun.
Eco-friendly:

While you are making a solid choice for yourself by choosing a two wheel scooter, you are also benefitting the environment. It is a win-win situation.
What to Look for When Making a Choice
So now that you have decided that you are ready to buy a self balancing scooter, how do you choose one from the many available? Before going to specific models and brands, it is first necessary to know what you are looking for.
The first thing to consider while comparing different hoverboards are the features. Does one go faster than the other? Does one offer a more sophisticated and foolproof navigation system than the others? Does one offer a hood in the front that offers better protection in case of an accident? These and other features are some that you should look into. More or less such features are visible when you look at the different scooters, and this is not a hard assessment to make.
The next thing you should think about is your need for the scooter. Ask yourself what you will really use it for. Learn to differentiate your real needs from your imagined ones. You might think that you will use it to ride to the gym that is six kilometers away, but you know that in reality, you're never going to get up early in the morning. But you might use it for your weekly grocery shopping. Find out your real motivation and with that in mind, filter through the choices.
Another thing that you should consider is appearance. Maybe one brand only offers the scooter in the basic colors of black and white. Another brand offers blue and pink too. Here you need to choose what uniquely matters to you. Does the idea of having a mini number plate make your pre-teen daughter's day? Whichever looks best to you, narrow that down.
Finally, you must balance all the above criteria with the price. After all, every product should be worth the money you are paying for it. You must balance money and features against one another. If one brand is offering a little something extra, but the price is double of the basic, it is not worth it. If another one is asking for two hundred dollars extra but is offering you an essential feature, for example, a special child grip, then that is worth it for you if you have a kid. Therefore, you must evaluate according to your needs and your budget.
BEST HOVERBOARDS 2017
Update: After lots of safety concerns and removal of products, there are a number of well made and safety approved hoverboards for sale. Please check out our comparison table for more details. We will keep this regularly updated with the latest information.
There are multiple self balancing scooters available online. Here are some of the best ones. A slight description of the features is provided. At the end of the description, the biggest pros and the biggest cons of the model are provided. Here are some of the most popular models:
The Halo Rover is one of the more popular hoverboards to hit 2017. This model will NOT overheat or malfunction, and it is UL Certified with LG's finest batteries. They have an indestructible guarantee with an aluminum chassis and indestructible non-flat 8.5 inch tires. This self balancing scooter also comes standard with Bluetooth and a mobile app for playing music, tracking location, speed, and battery life.
If you are looking for an all in one self balancing scooter, Street Saw's DailySaw 6.5 Inch Self-Balancing Scooter would be your best choice. This hoverboard is equipped with dual motors (one on each foot pad) thus allowing for easier control when turning, accelerating, and rotating. Bringing the hoverboard to a halt is also a breeze.
It has a maximum speed of 10.5 mph and a single charge can give you up to 12.5 miles of distance. However, it takes about 2 hours to fully recharge the battery.
The DailySaw 6.5 Inch Hoverboard can hold a maximum of 260 lbs thus making it a great choice for those who are on a heavier side. It has very durable wheels that makes it easy to ride in rough terrains. This feature is a big advantage for those who don't live in the city or for those who regularly go on hiking trips and would like a hoverboard they can take with them to the great outdoors.
Other features of this hoverboard include built-in Bluetooth speakers, comes with an on and off remote control, and it comes in 10 different colors and patterns to suit anyone's style.
Weighing in at only 26.5 lbs, the Swagway X-1 Hands-Free Smart Board is the lightest hoverboard being sold in the market today. Aside from this, it is also the fastest – allowing for speeds of up to 10 miles per hour. A single charge allows for up to 20 miles of run time or approximately 5 hours of use before it needs to be plugged in again. While it is pretty compact, its maximum weight capacity is 200lbs.
The body of the Swayway X1 is made from aluminum alloy with a hard ABS coating. This makes it pretty resistant to scratches and dents. In addition, it comes in 7 colors – one of which is a limited edition pink.
What makes the Swagway X1 stand out among all the other hoverboards out there is it's beginner and performance modes. First-time users can use the beginner mode while they are still learning how to ride. Once they gotten they hang of it and are comfortable enough in riding the hoverboard, they can move on to the performance mode by a flick of a switch. Aside from this, it is also one of the very few hoverboards that are UL certified for safety and quality. As such, owners don't have to worry about their hoverboards combusting.
The Powerboard by Hoverboard is probably one of the most expensive self-balancing scooters out there and the question everyone's asking is: "Is it worth the price?". The answer to this question is yes, it is. Here's why:
The Powerboard by Hoverboard is very well-built. Proof of this is its 30lbs weight. While this doesn't exactly make it appealing to those looking for a hoverboard that's lightweight, there are other features that make this product worth the price. For one thing, the package comes with a carrying bag which you can just throw over your shoulder. This makes the hoverboard easier to carry around. Also, it's maximum weight capacity is 220 lbs.
Next, the Powerboard by Hoverboard is one of the very few self-balancing scooters that have a powerful battery. This board can go for 6 hours of use on a single charge. When it comes to charging time, it takes less than an hour to fully charge the battery. This alone makes the Powerboard by Hoverboard a lot more convenient to travel around with compared to other hoverboards in the market.
In terms of speed, the Powerboard by Hoverboard can go up to 8 miles per hour.
The biggest selling point of the My Color Smart by Hovertech self-balancing scooter is its battery life. The board is equipped with a Samsung battery that gives enough juice for 6 hours of use. As a safety feature, the manufacturers added LED lights thus making it safe to use even at night.
The My Color Smart by Hovertech self-balancing scooter comes in 4 different colors thus giving buyers the opportunity to choose which fits their style best.
A word of caution though: My Color Smart by Hovertech is included in the list of hoverboards that have been known to combust. Many speculate that this may be because the Samsung battery installed in the board is actually a fake. As such, it is important to do your research before making a purchase to ensure that you are buying from a seller that is accredited by Hovertech. In addition, be vigilant when charging your hoverboard. Never leave it plugged in to charge overnight and keep a close watch on the temperature of your board while it is charging. If you feel it heating up, unplug it immediately.
The My Color Smart by Hovertech hoverboard comes with a 1 year manufacturer's warranty and spare parts can be bought separately.
Razor is known for producing high-quality kick scooters. As such, it came as no surprise when they decided to produce their own self-balancing scooter when hoverboards hit the market.
Razor's Hovertrax is easy to use, equipped with a patented technology, and is extremely durable. Riders will find that it takes less than an hour to learn how to ride this hoverboard like a pro. It's patented smart balancing gyro-sensor technology allows for a smooth, stable, and secure ride.
The Hovertrax's body is made of shatter-resistant polymers and is coated with scratch-proof paint. Simple bumbs won't ruin the aesthetics of your Hovertrax compared to other hoverboards in today's market.
The maximum speed of this hoverboard is 6mph and a single charge allows for 115 minutes of use. This can be a big con for adults who are thinking of buying this for themselves. But if you're thinking of buying a Hovertrax for your kids, this would be your best bet.
Perhaps the biggest advantage the Razor Hovertrax has over its competitors is the fact that this hoverboard is certified by US safety and authenticity agencies. With so many reports of self-balancing scooters overheating and bursting into flames, this certification certainly gives buyers peace of mind. Add to that the fact that Razor is a brand which is known all over the world for producing products made only of high quality materials.
Tips and Tricks for Self Balancing Scooter Users
Start with Safety Gear
You'll need the following safety gear before you get on the board. Dr. Emily Dodwell, a pediatric orthopedic surgeon, recommends a helmet, knee, elbow and wrist guards. If it's your first time, use a spotter to help you.
Always ride in a well-lit area with plenty of room for error. It's easy to run into people or other objects if you're riding in a small or cluttered space. Look carefully for sharp objects around you before you begin.
Calibrate it
Manufacturing and shipping can affect calibration. To test yours, lift one wheel and press the foot pad with your hand. Don't stand on it yet! If the wheel spins and the hoverboard does not shake, it's calibrated and you are ready to learn how to ride! If the wheel does not spin or the hoverboard shakes, follow these steps to calibrate it.
First, place the hoverboard on a flat, level surface. Turn the power off. Press and hold the power button until it beeps. This takes about 5 seconds. When the lights flash, you are ready to ride! The procedure works for all brands.
Know how to step off
When you're excited to try your new self balancing scooter, it's easy to step on without even thinking about how you'll get off. Make a plan for stepping off the hoverboard before you start.
Step backward to get off the board. This isn't intuitive, and most injuries happen when riders step forward and fall off the moving board. It's easy to lose control of the board when you step forward, and it can slip out from under you. When you step backward, the board will stop automatically and you'll land safely on your feet.
Getting started
Step on
Turn the board on before you start. Some boards automatically turn off after a certain period of time, so double-check before starting. When the power is on, the board helps you balance.
Place one foot on the board. Lean your foot forward and backward to see how the new board responds. Using a spotter to help, place your other foot on the board. It's normal to tense up as soon as you step on, but the board will be harder to balance. Instead, think of yourself walking up the stairs and relax. Breathe, relax your shoulders, and just stand on the board. There's no need to move yet.
Center your feet on the hoverboard with the widest possible stance. Placing your feet as close to the wheels as possible will improve your balance and control. Keep your weight equal between your heels and toes to prevent the board from tipping to the front or back.
Posture
Good posture is essential. Don't bend your knees, but avoid hyper-extending or locking them. Tuck your hips directly under your spine and stand up straight. Activate your core while standing on the board.
Don't look down!
Focus your gaze straight ahead, even while stepping on to the board. It's tempting to look at your feet, especially when you're concentrating on proper placement. However, looking down at your feet throws off your posture and causes problems when the board moves. Instead, look straight ahead at your intended target. Your body will naturally move with your eyes, and the hoverboard will glide along smoothly.
Riding the hoverboard
Lean forward slowly
Start by just thinking about moving forward. It's natural to lean in the direction you want to go, and just a slight weight shift toward the front of the hoverboard will move it.
If the hoverboard isn't moving yet, slowly and carefully lean forward until the hoverboard begins to move. Don't worry if you move in circles at first. The board will turn when you lean toward one side or the other, so finding the perfect balance to go straight takes a little practice. Continue using a spotter until you get the hang of it.
Turning
To turn left, push your right toe forward slightly. Push forward with your left toe to turn right. After a bit of practice, it will seem like the board knows where you want to go before you do!
For a sharper turn, pull back with the opposite foot just a little. For example, if you want to make a sharp left turn, push forward with your right toe while pulling back your left toe. With practice, you'll even be able to spin in place.
Moving backward
The hoverboard will move backward, too. Make sure the space behind you is clear. Lean back just a little. The board will move in the direction you lean. Remember, just a slight shift in weight is all it takes to move the board.
Practice!
Experts recommend practicing in laps, so you only turn one way at first. When you feel comfortable, try practicing a lap in one direction and the next one in the opposite direction.
Stepping off
Stand straight up and down until the board slows and stops. Then, simply reverse what you did to get on the board. Shift your weight to your dominant foot and step off with the other foot. Use your core for control.
Getting on and off the board is the hardest part. Practice this with a spotter until you are very comfortable. Don't jump off the board.
General Safety Tips
Preventing Fires
Some of the battery packs on the early hoverboard models made the news when they caught on fire. Fortunately, Underwriters Laboratories now certifies hoverboards for safety. Look for the UL standard 2272 certificate on your new hoverboard. Boards with this certificate use high-quality materials and are completely safe.
How fast does a hoverboard go?
Depending on the brand, maximum speeds range from 6 to 12 miles per hour. Check the maximum speed on your hoverboard before you start. Boards with higher maximum speeds require more space when you're learning to ride.
Riding at night
While hoverboards do have lights, they are close to the ground and used more for signaling than helping you see in the dark. If you ride at night, wear light colors and reflectors like you would on a bike. Consider using a headlamp to help you see clearly. Don't ride at night until you're very comfortable on your board.
Boards are safer than ever, but it still takes some practice to master the art. Use a friend or parent as a spotter and take lots of time to practice getting on and off the board. Use these tips and tricks for a fun, safe ride. Most riders learn quickly and can soon enjoy their hoverboards at home, in the park, or even to ride to work.
For the latest hoverboard news, tips, and upcoming deals visit our homepage. We'll keep you up-to-date on the best boards in the industry. Let us help you compare quality, price, and features for a hoverboard that's right for you.
Older Hoverboard and Self Balancing Scooter Reviews
Read on below for older models which may or may not currently be available online
MonoRover R2 Electric Mini Two Wheels Scooter
This model has an anti-slip foot grip, which is useful if your scooter is for a child. Its stop speed is 12 km/h. It can carry a load of up to 100 kg. It weighs 10 kg. It is available only in white. If you are okay with the color, this is a good choice.
Outtop Two Wheels Mini Smart Electric Scooter Unicycle
It is available in red, gold, blue, black and white. It has a voice alert and LED that alerts you when the battery is low. If you don't charge the battery then, the speed of the scooter slowly tapers down, and eventually it stops itself. The maximum speed it can attain is 15-20 kmh. It can carry a weight of up to 110 KGs.
Verdict: Pro – available in a unique color i.e. gold; con – might be difficult to locate replacement if charger breaks.
Two Wheels Self Balance Smart Drifting Scooter Electronic Mini Unicycle Intelligent Monocycle
This variant, too, is available in various colors. It goes up to a maximum speed for 15 – 20 kmh. It weighs around 25 pounds and reaches full charge in around two hours. It too has a voice alert and LED light to alert you of low battery.
Verdict: Pro – discount; Con – appearance is not as good as others. 
OU-BAND Two Wheels Self Balance Smart Drifting Scooter Electronic Mini Unicycle Intelligent Monocycle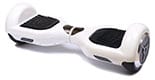 The model weighs around 12 kg, and offers a mileage of 15 km on a horizontal surface. It can reach its full battery power within just an hour of charging. It is available in black and white. It can carry a maximum load of 250 lb.
Verdict: Pro – quick charging; con – only available in black and white.
EROVER Two Wheels Smart Self Balancing Scooters Electric Drifting Board Personal Adult Transporter with LED Light
This model is available in multiple colors like blue, yellow, white, red, white etc. There are also bags available for these scooters in matching colors. This model weighs 27 lbs. The maximum speed it can attain is 10 mph.
Verdict: Pro – choice of colors; con – maximum speed is less than others. 
The variant is available in basic colors of black, white, blue and red and reaches the full charge point in less than two and a half hours. It can carry a maximum load of 220 lb. Its weight is approximately 25 pounds.
Verdict: Pro – full marks on design; con – slower charging than others. 
Electric Skateboard Two-wheel Smart Self Balancing Scooters Drifting Board with LED Light in Red 
This scooter goes up to a maximum speed of 15 – 20 kmh. It can carry a maximum load of 120 kg. It takes between 60 – 120 minutes to fully charge, but 80% charge is achieved within half an hour. It weighs around 12 kg. It has an LED light to warn about low battery.
Verdict: Pro – 80% charging in 30 minutes; con –only in red.
Good-box Two Wheels Smart Self Balancing Scooters Electric Drifting Board Personal Adult Transporter with LED Light
This is another model by EROVER. It is available in multiple colors including blue, black, orange, purple, white etc. It weighs around 25 pounds. It has an LED light that glows and reminds you when the battery is about to die. The speed tapers down and it eventually stops if you don't charge it after the low battery warning.
Verdict: Pro – price; con – no voice assistance
CoolReall Two Wheel Self Balance Electric Board Drifting Personal Transporter
This is available in red, blue, black and white. From the point of view of appearance, this is probably the best scooter. The maximum speed that can be attained is 12 kmh. the recommended age is over 14 years and under 45 years, with learning partners recommended for the people who don't fall in this age group.
Verdict: Pro – smart design and appearance, con – maximum speed is lower than others.
Summary
The above list is a handy tool in deciding which variant to buy. You can assess different hoverboards easily to know what's best for you. Look at the appearance and then the speed and charging times; only then look at the price. Understand your priorities, and decide which feature matters to you and which one doesn't to make your choice.
For example, if your first priority is looks, and you want a scooter that has a fabulous design, you can opt for the CoolReall scooter. Similarly, if you are looking for something to teach a child, the MonoRover R2 Electric Mini is a good choice. In this manner choose what you like according to what you need, and eventually compare prices to select the best product for you.
After reading the reviews, you can confidently go forth and buy the best hoverboard / self balancing scooter for yourselves, whether it is from your neighborhood store or through online shopping.