Rodney Mullen said, "Do what you love and try not to look at what other people occupy themselves with. Most people seem restless and bounce around too much to focus or even pay attention enough to themselves to figure out exactly what they really do love, as opposed to what the people that surround them are doing."
Here at Choose Wheels, we LOVE electric skateboards. Nothing is more satisfying than cruising 20+ MPH down busy city streets where rush hour traffic is backed up forever and getting to pass everyone. But how do you know which board to pick?
There are so many options out there and every single one provides a different ride. Some are better for the city traffic, while others are better for off-roading. Looking for something to ride to class? We have lined up the top 5 electric skateboards on the market today. We'll give you insight on their stats and which is best for which scenario.
| Name | Max Speed | Range | Best For | Our Rating | |
| --- | --- | --- | --- | --- | --- |
| Halo Board Cabon Fiber | 22 mph | 14 miles | All Around | | Best Deal |
| Boosted Mini X | 20 mph | 14 miles | Campus/City | | Best Deal |
| Evolve Carbon Gt | 25 mph | 31 miles | Off-Road | | Best Deal |
| Acton Blink S | 18 mph | 14 miles | Campus/City | | Best Deal |
| Blitzart Huracane | 17 mph | 8 miles | Saving Money | | Best Deal |
5 Best Electric Skateboards/Longboards
1. Halo Board 2 Carbon Fiber
PROS:
22 MPH Top Speed
12 Mile Range
Carbon Fiber Body
Dual Hub Motor
Regenerative Braking
Only 14 lbs
2. Boosted Mini X Electric Skateboard
PROS:
20 MPH Max Speed
Climbs 20% Grade Hills
Great Brakes
Great Commuter Board
CONS:
Takes a little getting used to the shorter board
3. Evolve Carbon GT
Click Here For The Best Deal
PROS:
Very Fast
Long Range
Digital LCD Screen on Remote
CONS:
A little on the heavy side
4. Acton BLINK S2

PROS:
Dual Hub Motor
14 Mile Max Range
Lights on front and rear
CONS:
No swappable battery
Not as fast as the other boards
5. Blitzart Huracane 38″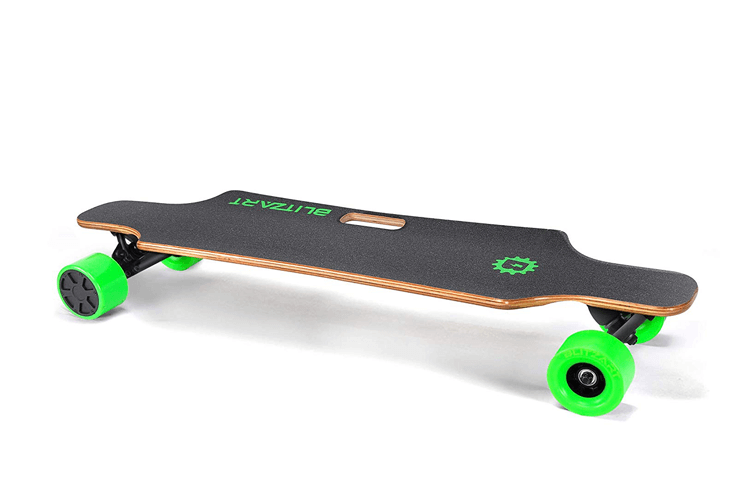 PROS:
Less expensive than the other boards
Regenerative braking
Handle for easy carrying
CONS:
Range isn't as good as the other boards
The History and Legality of Electric Skateboards
Powered skateboards first surfaced in California in the mid-70s, but they were powered by gas engines (often taken from lawn equipment). These gas-powered skateboards were extremely loud and pumped out terrible exhaust. They were quickly banned, and motorized skateboards were largely forgotten.
Over the last few years, though, a number of developers launched Kickstarter campaigns to fund the creation of electric-powered skateboards. It didn't take long for several companies to jump on the bandwagon (or the skateboard) and bring these boards to a larger market.
Electric skateboards exist in a legal gray area in many regions, since they're too new to have been fully legalized, banned or regulated. They've been approved in a few states, while several others like California are considering laws to make them illegal.
Most legislatures simply haven't dealt with the issue. But few people experience difficulties when taking a powered board out in public, with many law enforcement officials saying they'd only take action if someone complained. And of course, there's no rule saying you can't use them off-road.
Any real limitations come from the boards themselves; some are better used on stable ground or pavement, while others can hold their own on rough terrain. When choosing a model, it's vital to know what each one can – and can't – do.
Why an Electric Skateboard / Longboard?
To answer that question with one word: fun!
Sure, you can use an electric longboard as your typical mode of transportation. They're popping up all over college campuses. And urban commuters are using the boards more and more often, particularly in tech havens like Silicon Valley (as you might expect). Taking your board to work or school doesn't mean it's any less fun to ride, though.
And a growing number of electric skateboards tout their speed (some will do well over 20 miles per hour), rapid acceleration, multiple riding modes, and durability. Those aren't features meant for commuters; they're designed for fun – and even extreme – riding experiences.
Generally speaking, almost all of the boards you can buy work pretty much the same way. An electric motor powers it, and it's controlled by a wireless bluetooth remote (some can be controlled by a mobile app on your smartphone), there are brakes to slow your travel, and you steer just as you would with an old-school board, with your body (and feet, if necessary).
The other attributes of electric skateboard models vary considerably, as you would guess by the fact that price range for these babies can run anywhere from a few hundred dollars to a few thousand. Here are some of the most important considerations we've taken into account when ranking the best.
One major key to a motorized board's usefulness is its range. If you only have a ten-minute commute to work, you shouldn't have a problem with the distance any models will be able to cover it on a single charge. If you plan on heading out for a full afternoon of joyriding, though, the last thing you'll want to be faced with is a long walk back home with your board under your arm. And if that is a possibility, the weight of the skateboard is something else to consider.
Construction and performance are almost as important for an electric board as they are for a car.
There are a number of inexpensive Chinese skateboards available. And most of them have inferior wheels or brakes, lead-acid batteries instead of lithium-ion batteries, motors which can't produce enough torque to propel it up a slight incline on the sidewalk, and quite frankly, the construction is so poor that the unit will fall apart within a month.
It's possible that those are more than enough for your purposes or all you can afford, but most are pricey enough that you deserve more for your money.
We've also looked at the type of remote control each board utilizes. It may seem like a small thing – until you're out on the road and realize that having to use your thumb to control your speed is a lot harder than using your trigger finger. Some models even let you use your smartphone as a remote, while most have apps that allow you to program their operations.
Other features which may be important to you include two-wheel drive (with a separate motor powering each rear wheel) which can improve traction and power but makes turning more difficult and drains the battery life more quickly; hub drive (instead of belt drive) for less noise; and extras like LED lights for night riding and waterproof or water-resistant components for all-weather trips.
Ready to take these reviews out for a spin? Get your helmet and pads on and let's get started.
Wrap Up
These best electric skateboards, as you've seen, have various maximum speeds and are built for different purposes. Our reviews have hopefully helped you decide which one best fits your needs and your idea of what an electric board should do.
But no matter which model you choose, even the entry-level Dynacraft, there's a definite learning curve. Experience with a traditional skateboard will help you adjust to an electric one, but getting the hang of changing speeds with a remote control while navigating bumpy or uneven ground can toss even a seasoned rider at least a time or two, especially when traveling 12-20 miles per hour. Be sure to always wear a helmet and adequate padding.
The key decision you'll have to make (other than the one based on your budget, of course) is whether you want a board for commuting, speed, or simply all-purpose fun. When you couple that with the distance you'll need to cover, the inclines you're likely to face and the speed you'll feel comfortable with – you should have all the information you need to get riding on an electric board that really works, rather than waiting to find a truly safe hoverboard.
If electric skateboards aren't your thing make sure to check out our electric scooter, electric motorcycle, and electric bike pages!